Let the Outdoors in with Pocket Sliding Doors
Everything is wide open.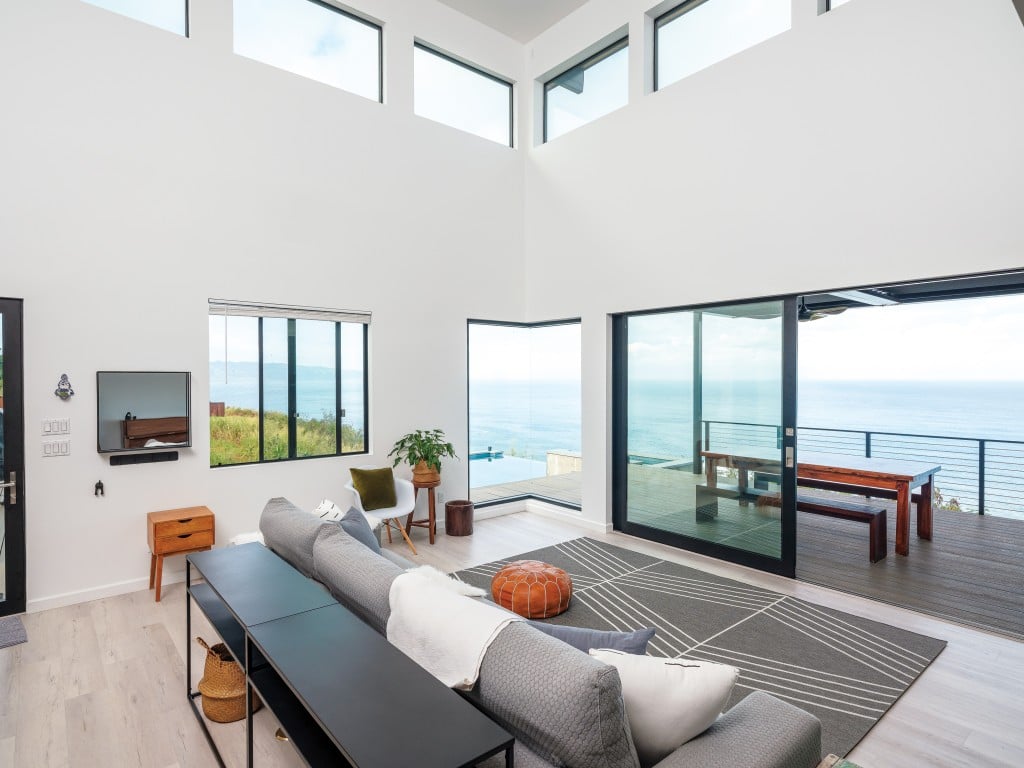 Homes are very intimate living spaces and windows and pocket sliding doors open the way to the beauty that lies beyond.
When it comes to selecting products, it's important to define what you want and what your priorities are, such as views, ventilation and performance, according to Chris Ayres of Pacific Source. Also, take into consideration the intended use — whether windows need to be open most of the time for good airflow, or will be closed — and where the windows will be located. The same goes for sliding doors.
For the design of this home on Oahu's North Shore, windows and pocket sliding doors were key. It features Fleetwood 250 windows and 3070 multi-slide doors that were designed to capture and enhance the allure of coastal living, says Ayres.
"Fleetwood's ability to produce doors with large glass and minimal sight lines emphasize the incredible views of this location," he says. "The slim sight lines and minimal 3070 track system promote indoor-outdoor living. Whether the doors are open or closed, one cannot help but focus on the surrounding beauty."
Multi-slide doors are an appealing choice for homeowners because they disappear, adds Ayres. "When it comes to large openings, sliding doors often make up an entire wall. What better way to bring the outdoors in — or ease the transition from living space to lanai — than to pocket the doors so that when they are fully open, they are hidden out of sight."
If wall space is available, it's a great way to create wow factor and to feature specific openings and views, Ayres says.
Fleetwood specializes in modern luxury windows and doors. "It's known for its slim sight lines and design that allows the product to blend into many architectural motifs," he explains.
Large windows and sliding doors are captivating features to have in your home. "Here in Hawaii, the beauty of the islands is often at the forefront of building and design," shares Ayres. "This leads to large openings that allow us to appreciate the views."