Metal Roofing Matters
With energy-saving and eco-friendly advantages, consider this roofing material for your abode.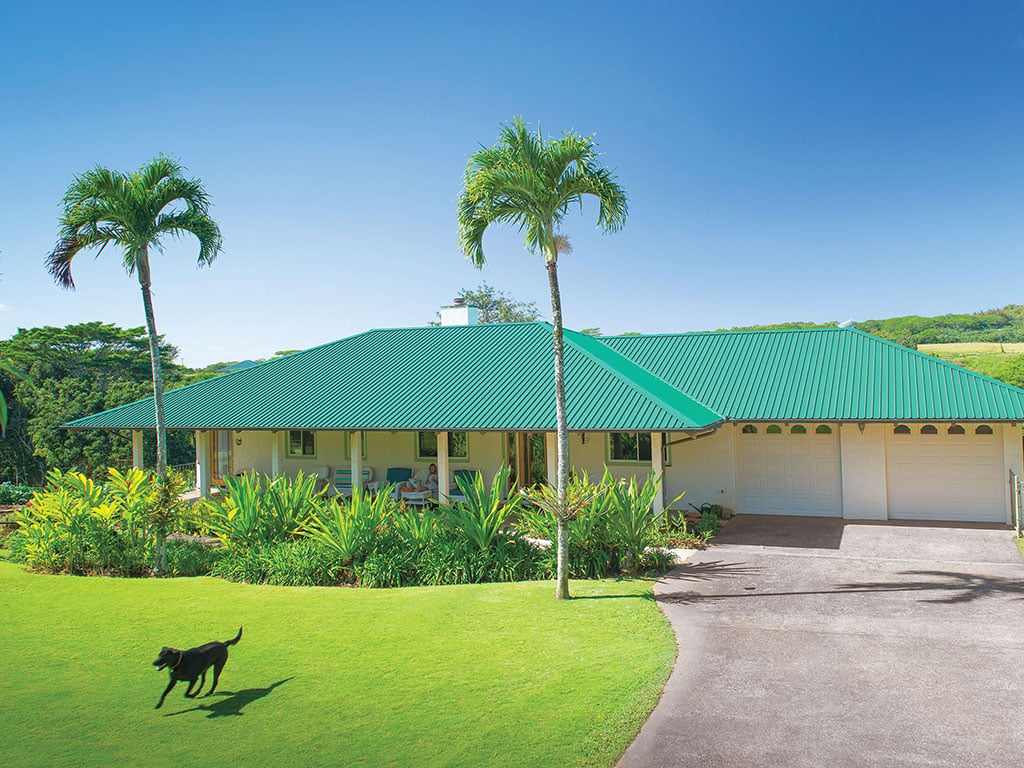 Metal roofing is a top pick in the islands. Intended to last for decades with little maintenance, it's also nonflammable, holds up in inclement weather and can withstand high winds. If a metal roof is washed regularly and kept free of debris, it could be 30 years or more before it needs to be replaced.
Brennan Leong, owner and president of Kapili Roofing & Painting, says that metal roofing is also solar reflective, making it a lot more energy-efficient than other pitched-roof options. And, he says, it's recyclable, it ships more efficiently than other kinds of roofing materials, and "it's a greener product."
Dee Akasaki, custom metal roofing sales supervisor at HPM Building Supply, echoes Leong on metal roofing's environmental benefits. A metal roof, she notes, can also be used as part of a rainwater collection system for your home.
"There are many rural communities in Hawaii that already use water catchment systems for which a metal roof is perfect," she says. Simple or sophisticated catchment systems are available to meet any household's needs.
Akasaki says HPM introduced metal roofing to Hawaii in 1963 and still recommends it to local homeowners today. In the Islands' tropical climate, she says, metal roofing is a major benefit, especially during the summertime. "With a cool metal roof, less heat will enter the interior space of your home," which means less energy needed for fans and air conditioning.
Leong explains that metal roof panels are custom cut to fit each roof perfectly. After the panels are received by the Kapili Roofing & Painting team, installation takes a week or a week and a half to complete. Once they know the benefits of a metal roof, homeowners should consider the costs before moving forward.
"You'll pay more for a metal roof, but you'll get a longer service life," he says. "When you factor in the total cost of ownership of your home and the cost of roofing over the long term, you're going to pay more for a metal roof upfront," but the subsequent replacement would be deferred. He says that asphalt shingles, for example, would have to be replaced twice as often as a metal roof.
Akasaki agrees that the long-term advantages of metal roofing are worth the investment. "There are multiple benefits to metal roofing for your home," she says. "When it's time to re-roof, a custom metal roof offers style, durability, and energy efficiency."
---
Editor's Note: This article has been slightly modified from the original print version for optimal online reading. To view the full print story, subscribe to our digital edition or pick up your copy of Hawaii Home + Remodeling at one of our partner locations.