Treehouse Rules
An off-duty general contractor turns challenging landscape into green, carefree playground for the family.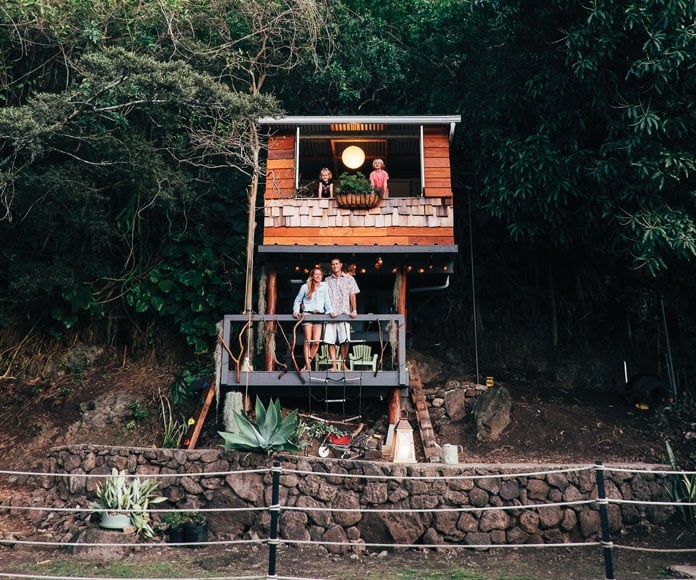 When Erin and Steve Gerwig moved into their Manoa home with two young children, there was no space for the kids to play, inside or outside. The cozy home lacked a dedicated playroom and the steep incline of the backyard made it virtually unusable. The front of the house abuts the street, leaving the sidewalk — or worse, the road — as the only option for outdoor playtime.
Erin and Steve hoped to give their children a space they could call their own, a space that would encourage them to play outside while in a safe environment.
"Our main goal was to create a place that they could play in without being in the middle of the road," Steve says. Growing up in the construction industry and now a partner in the family business, Pacific Dynamics Construction, Steve was eager to build a treehouse for his children to safely play in.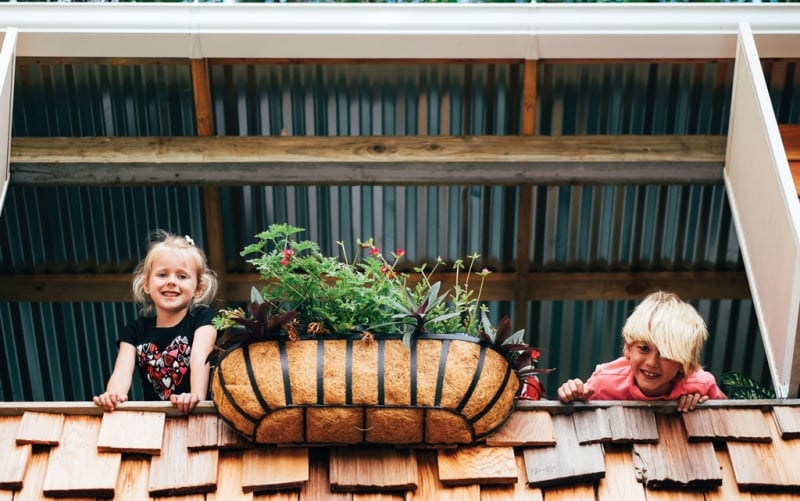 Steve's father built treehouses for him and his brother, Robert Gerwig, when they were young, so he also knows from experience what a treehouse needs for endless hours of entertainment. As they got older and began growing out of the treehouse, the brothers helped their father at jobsites during school vacations and summers. Today, Steve, Robert and their father, Harvey Gerwig, are partners in the homebuilding and remodeling business Harvey started in 1970, Pacific Dynamics Construction.
Steve began collecting leftover construction materials from job sites, recognizing treehouse gold in materials that would otherwise be scrapped. His 7-year-old son, Benjamin, provided design input, working on sketches after school that illustrate the treehouse's multilevel construction, and Benjamin's favorite feature: the fire pole, which he and his 5-year-old sister, Gillian, climb up and slide down all afternoon.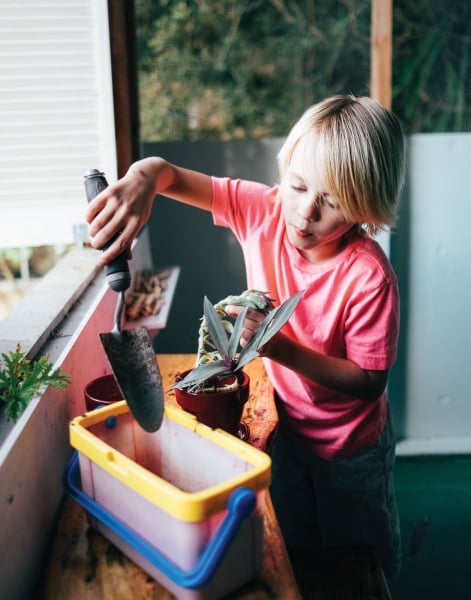 On weekends, Steve shifted his focus from home remodeling to treehouse construction. Nearly all of the materials are repurposed, including a fallen guava tree from the yard used for the treehouse's posts, and a fallen mango tree used for a desk and two chairs in the second story of the treehouse.
Taking advantage of the frequent rainfall in Manoa Valley, Steve designed a rainwater catchment system for the treehouse, which Erin uses to water plants in the yard and the children use to wash their hands between playing and snacking. Rainwater flows from the corrugated metal roof into a gutter, then down into two plastic bins that hold the water until the family is ready to use it.
"The water feature is awesome," Erin says. "Plus, it's free. It's that whole idea of reusing what you have and not taking what you don't need."
The treehouse brought a challenging and empty landscape to life, providing the Gerwig children and their friends a space to call their own.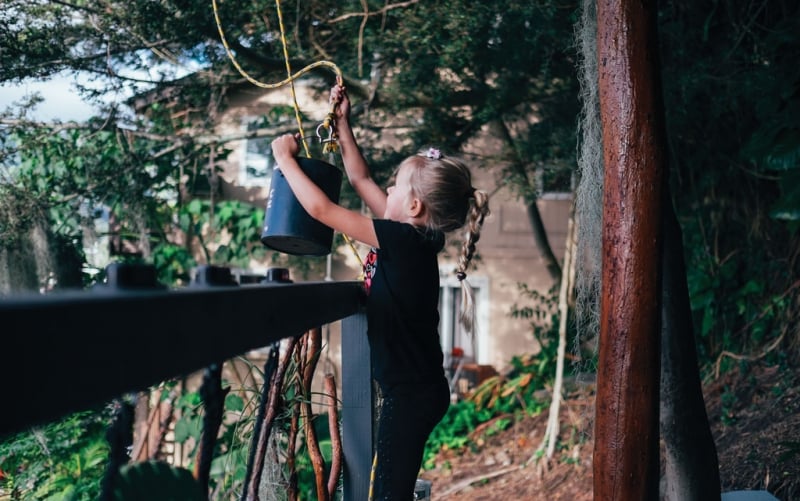 The treehouse remains a treat; Benjamin does his homework in the treehouse after school on Fridays, but on school nights his homework must be completed before he's allowed up to play. "It's a motivator for them to get stuff done," Erin says, adding that it has also inspired her and Steve to invest more time in working on their yard. "Having the treehouse out there, it's a place they want to go to, rather than a dirt yard. It's their own little private oasis up there."
Though the treehouse is currently under the children's rule, Erin sees great potential for adults to use it, as well. Erin, Steve, the kids and their grandmother partook in a pizza party in the treehouse while enjoying the spectacular view of the sunset, a much better view than from their "real house" down the hill.
"I envision turning it into my own space," Erin says, as Steve laughs.
"I think Erin has dreams of using it for herself. I built it for the kids, really," Steve says, adding that he would have designed it differently for adults. Even so, he plans to add more features for the parents to enjoy nearby, such as a fire pit. "We all love the outdoors, so it's fun being able to all share an area and enjoy the outdoors."