Looking Back, Moving Forward
Revisiting our featured home stories from 2022 for year-end inspiration.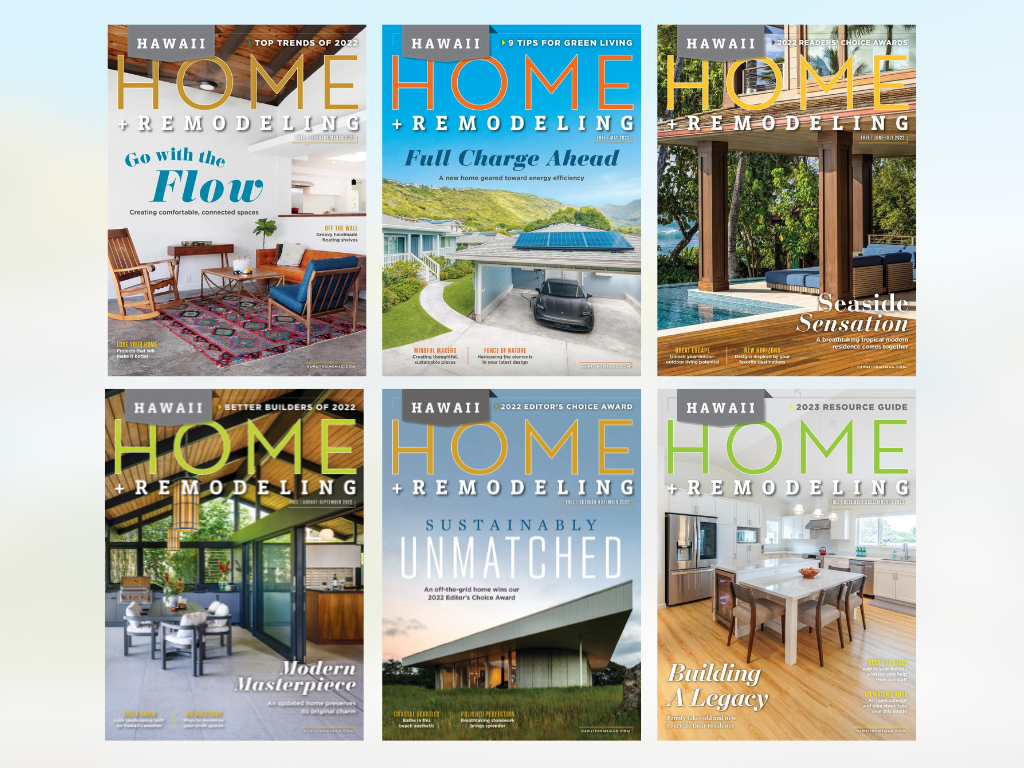 If 2022 could be described in one word, "transitional" may sum things up well. Our Hawaii Home + Remodeling cover stories throughout this past year highlighted a shifting energy in the home industry, bridging the comfort of timelessness with the exciting potential of new ideas. Revisit these abodes and reflect on your own meaning of "Home in Hawaii" for the year ahead.
All Together Now
The original design of this Kailua home was a bit of a mixed plate. The one-story ranch-style residence had been renovated numerous times by previous owners, resulting in compartmentalized spaces. The homeowners called upon Blueprint808 and Mokulua High Performance Builder to reimagine their home as a place that the whole family could gather together naturally. Read more here.
With Great Efficiency
When the owners of this Aina Haina property approached general contractor Chad Okuhara to build their new home, they requested that the house be cool and comfortable, with great ventilation and energy efficiency, while reflecting a design that'll help it blend into the neighborhood. To achieve all of that, they worked hand in hand with RevoluSun, a local solar and smart home company committed to quality services and products. Read more here.
A Private Paradise
Legacy homes passed down to the next generation are a specialty for J. Martin Builders. This beachfront property had been in the family for more than a decade when the current owners decided to create a new place to raise their children, host family gatherings and eventually retire in. Peter Vincent Architects was the design architect and architect of record for the project. Read more here.
Keeping Up with the Calm
When Boyd Construction's design/build husband-and-wife team of Todd Boyd and Sarah Schmidt purchased a midcentury abode overlooking Kahana Bay, they wanted to update the home while maintaining as much of its original charm as possible. Boasting two bedrooms and two baths plus a one-bedroom ohana unit, the house is only 1,400 square feet. Yet its open and breezy concept makes it feel much roomier. Read more here.
Unmatched Sustainable Living
Ask the homeowners, architect and project manager behind the Musubi House about this unique project, and you'll hear many amazing anecdotes on how it came to be. The stunning Paauilo residence is a marvel — and one that illustrates the beauty and innovation possible with sustainable living. The Musubi House was honored as the Hawaii Home + Remodeling Editor's Choice winner at the 2022 AIA Honolulu Awards gala. Read more here.
Founded on Memories
When the time comes to break down your childhood home and construct anew, you'll likely have a range of emotions. Cherished memories collide with pragmatic project decisions — but behind it all is a sense of hope for the bright future a fresh build will bring. A Hawaii Kai family recently experienced all of that. Connecting treasured elements from their old home with forward-thinking design resulted in a new abode that's inviting and full of character. Read more here.