Editor's Notes: October-November 2022
Moving through a season of change.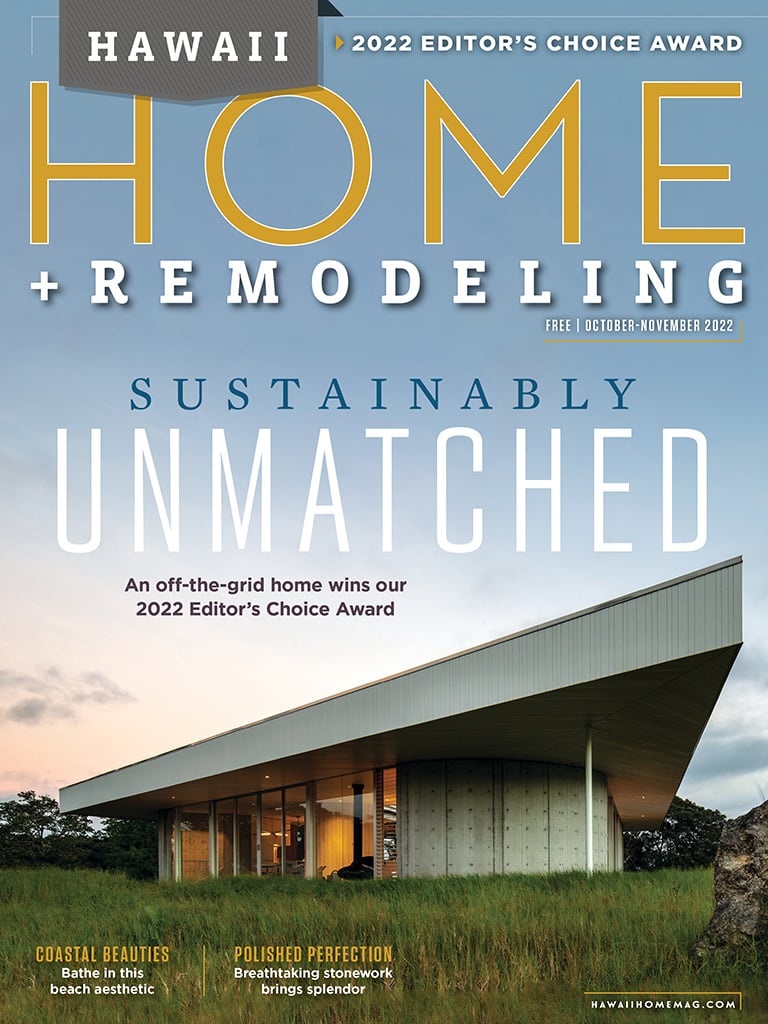 In 2018, I made a life-changing decision: I joined a barre studio.
Discovering a new exercise regimen is a seemingly minor event in the grander scheme of existence. Nearly 900 barre classes later, however, that minute move has led me to a supportive circle of friends, self-confidence and increased physical strength.
My barre studio's motto is "Small moves, big results." With virtual workouts now available, I hear this reminder from my instructors each morning while doing my barre set at home.
Small moves, big results is a good way to describe this latest issue: The stories in our October-November 2022 Hawaii Home + Remodeling edition are woven together by the general theme of change. Each renovation decision, every piece of tile laid, even a simple shift in your cleaning routine offers an opportunity to enjoy your home anew. It's our hope that this magazine sparks just the right bit of inspiration to move you toward the refreshed results you aim to achieve.
October is National Kitchen and Bath Month, and our team has culled together a slate of feature stories to celebrate this annual Kitchen and Bath Issue accordingly. The stellar work of Bella Pietra Design brings splendor to a bathroom highlighted here. Learn how the expert cabinetmakers at Hawaii Kitchen & Bath created a timeless look for a Kailua kitchen here. And take a deep dive into the details of a beachy chic bathroom project by The Glass Guru of Honolulu here.
November invites family and friends to gather for Thanksgiving. Start preparing your home by exploring kitchen and bath upgrades, ways to maintain your appliances, and local products from Aloha Home Market vendors. (Small Business Saturday falls on Nov. 26: a special shoutout to all the local entrepreneurs in our Hawaii Home + Remodeling community!)
And last, but most certainly not least, in this issue I have the honor of sharing the story behind the Musubi House, our 2022 Editor's Choice Award winner. Each year, we partner with our local AIA chapter to select a project that elevates our perceptions of what "home" can be. The Musubi House is game-changing in its design and an innovative example of how homeowners can do their part to live sustainably.
Whatever changes this season holds for you, may it be met with the comfort, reflection and gratitude that this time of year underscores.
Don't forget to tag us on Instagram (@hawaiihomemag) and share photos of your home using the hashtag #hawaiihomemag. From the Hawaii Home + Remodeling ohana to yours: Mahalo for reading!
Aloha,
Darlene Dela Cruz, Editor